Catholic Carnival:
In Honor of St. Dominic &
The Queen of the Holy Rosary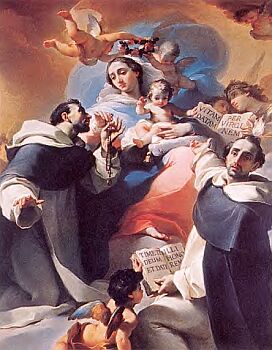 Welcome to this week's Catholic Carnival.

This week's carnival is in honor of St. Do
minic on this, his feast day, and also of the
Queen of the Holy Rosary
.
St. Dominic was the founder of the Order of Preachers (aka. the Dominicans) and he was important in the history of the rosary.

Though I easily re
me
mber that
August 8 is St. Do
minic's
feast day as it coincides with
my father's birthday
, I te
mporarily forgot about this when I volunteered to pull together this week's sub
missions
. Nonetheless, the fact that I
a
m pulling together this carnival on Do
minic's feast day (unintentionally) is likely no coincidence
; nor is the fact that there is a new Third Order of Preachers chapter (Blessed Jordan Pro Chapter) starting at Franciscan University. (S
o
me of you know that
I have relatively recently come to believe that I may have a Dominican charism.)

St. Dominic and Mary, pray for us!

Without further ado though, I present the carnival. While I
have not had a chance to review
most of the sub
missions I received
(and I a
m posting all sub
missions I received)
, I find this
microcos
m of the
variety of Catholic-oriented posts on the web interesting
:

God bless you and your descendants!
Oh...and Happy Birthday, Dad!